Most outdoor Playsets are non-profit project for public, lack of proper management and maintenance. For that reason, lot of inquiry has been report for using playground equipment.Keeping playground equipment properly maintained is essential to the safety of the children who play there. A quality maintenance program has many benefits. The probability of injury can drop to 1% if frequency of maintenance can be done weekly.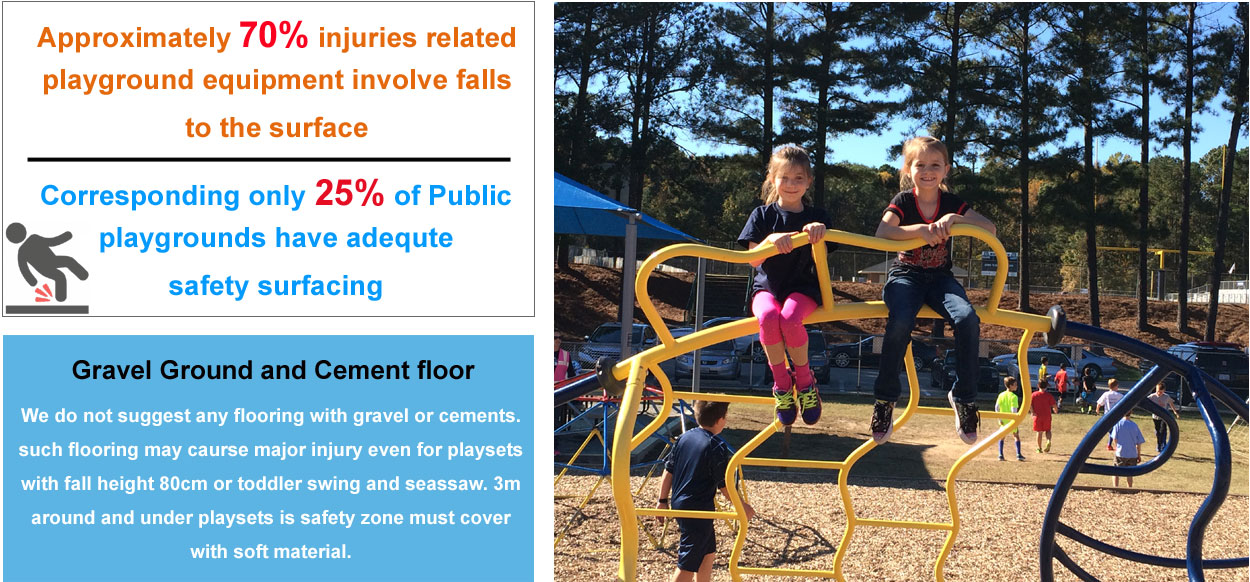 Grass & Sand surface
For backyard playsets, Sand and Grass are fine, Because the frequence of using play equipments is quite low. For playground at school, public park, residential or church, we do not suggest such surface, The grass will destory after using of weeks, In autumn and winter will be no grass at all, only solid dirt. The problem of sand is small kids love to pile it up, that will be no flat flooring at all.
Rubber Pad & EPDM flooring
At most school, playground equipment have EPDM flooring. EPDM flooring have good looking, also can absorb impact quite well. For big park also.
For small park or Church, the rubber pad is good solution. Rubber pad are easier to install. even softer then EPDM floor. We suggest 5cm thickness rubber pad for big playsets.